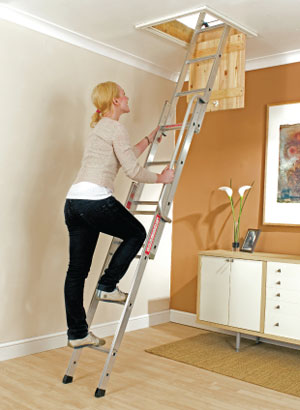 We've all done it! Standing on a rickety set of steps or old dining room chair, and pulling yourself up through that little hole in the ceiling just to retrieve the suitcases for your holiday. There is a great range of purpose designed ladders available, that not only make getting into your loft safer, but are extremely easy to use.
The Loft Boys love safety, which led us to put this guide on exactly what to look for when choosing your loft ladder.
Choosing the right loft ladder
The choice is often based upon preference and how cautious a climber you are. There are also many situations where the decision is more or less made for you due to restrictions with clearances in the loft and the room the loft hatch is positioned. However the majority of these restrictions have been handled through the design of some pretty impressive loft ladders.
How to find the loft ladder for you
The first thing that we always recommend is to measure the inside dimensions of the loft hatch opening. Make sure you take these measurements at the narrowest points of the open loft hatch, as all loft ladders specify a minimum opening and there is nothing more frustrating than making your choice only to find it will not fit.
Then the next step you need to take is work out the clearances. Here are the vital measurements that will specify which ladders you are able to have.
They are:
Measure the width and length of your existing loft hatch opening, and note these down.
Work out which side of the loft hatch you would like the ladder to be hinged and then measure from this side of the hatch vertically towards the roof, or any other obstruction sitting above this side of the loft hatch and record the measurement. This obstruction may be a timer loft brace spanning or it may be the roof itself, (whatever is closer to the top side of the loft hatch). Make sure you take the measurement from the topside of hatch ( the floor of the loft).
Now, from the same side of the hatch (loft ladder hinged side) measure horizontally to the closest obstruction, running your tape measure across the loft floor or loft boarding travelling away from the hatch. Record this measurement.
You will now need to take the measurements from the loft floor, where the foot of the loft ladder will land when in use, and measure vertically up to the loft hatch. Record both floor to ceiling height and floor to loft floor height. You should find there is a difference of approximately 120mm between the two measurements.
These measurements are the basics needed to determine what loft ladder(s) are going to be suitable for your loft space. Obviously you may find yourself as one of the lucky ones that get the pick of the bunch. The decision is then down to preference and budget.
You may also want to extend or re-locate your loft hatch opening. If this is the case then you will need to bear in mind any electrical wires or pipe work that may be trailing near the area you intend to carry out the work. Always make sure you obtain genuine solid advice if you're thinking of cutting any structural loft timbers to form a new or extended loft hatch opening.
Loft Ladder Maintenance & Safety
Making the access to your loft or attic easier is one thing but ensuring your safety whilst doing so is another.
Take a look through the web and you'll be sure to find stories on accidents caused by the misuse of loft ladders. All ladders are designed by manufacturers with the users safety being the crucial factor. Be sure to follow all provided instructions during the installation of your new loft ladder. If utilising the service of a professional them make sure they have walked you through the loft ladders whole operation process and explained and made you clear of the loft ladders maximum load. All loft ladders will specify a maximum load and you should pay attention to these as they are in place for a reason. Take a look at the most basic design of loft ladder and you will see that they have a maximum load of 100kg (Roughly 15.6 St). Imagine your weight with a heavy box of books. Chances are this will push you near to that limit. These loft ladders are designed to get you into the loft space only and it would be sensible to call in a favour and have a friend help you by passing items up once you are in the loft or attic.
Take your time! There is no need to rush up the loft ladder, especially if you are only retrieving some stored items. OK, there may be a sense of urgency should a leak of sprung from the water tank in the loft space but you should always put your safety first. Just a quick couple of seconds ensuring all locks etc are fully engaged could be the difference between a safe climb and a trip to the hospital.
Never use a loft ladder that shows signs of damage or faults.
Maintenance is essential to prolong the loft ladders life and will ensure the loft ladder functions correctly and easily. We all have a can of spray lubricant laying about…Don't we? If not, You can pick these up for a next to nothing. A quick blast on the major components and locks every few months or uses will make sure those lock engage and the operation remain smooth. However, be sure not to get this on the treads or steps. Should this happen make sure to clean off before attempting to climb the loft ladder.
Get help with loft ladder measurements.


Get in touch for a FREE quote or general advice…
call us: 0800 6128 933
Popular Types Of Loft Ladder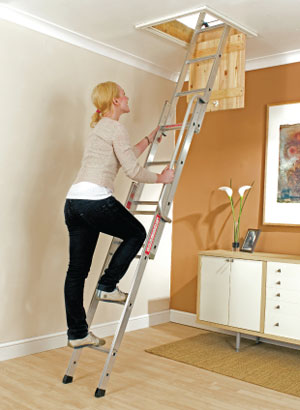 Sliding Loft Ladders
This type of loft is a popular loft ladder for those who are looking for 'simple means of access' to their loft and is designed for occasional domestic use. These loft ladders usually work independently from the loft hatch trapdoor, and are usually operated using a pole supplied with the ladder.

Folding Loft Ladders
This type of ladder is becoming increasingly popular with people who want to make good use of their loft space. This loft ladder comes complete with fully integrated loft hatch casing with the loft ladder usually pre-mounted onto a fully insulated and draught proof white trapdoor; which makes it a good choice of loft ladder for anyone looking to save on heat loss and cut out the overhead of painting. The folding action of the loft ladder also means that when stowed it does not take up potentially valuable loft floor storage space as the ladder sits directly on top of the loft hatch trapdoor. You can obtain these folding loft ladders in either timber or steel construction.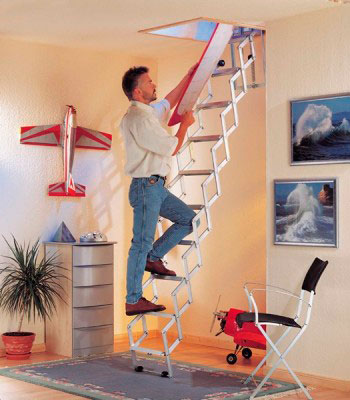 Concertina Action Loft Ladders
Concertina loft ladders make an ideal solution for lofts with limited space around the loft hatch. This type of loft ladder, when in it's stowed position, sit directly above the loft trapdoor meaning that it is perfect for a loft hatch that is tight to a wall or anything else that may be an obstruction. Concertina loft ladders are the only ladder which allows users to adjust the gradient before use. This means that should there be limited room where the foot of the loft ladder, you are still able to use it safely. The most popular concertina loft ladders come with nice deep treads which makes a comfortable climb.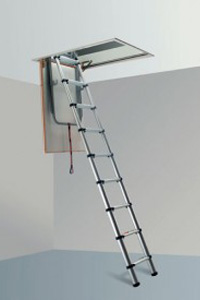 Telescopic Loft Ladders
Telescopic loft ladders are a very advanced type of loft ladder through unique design and operation. This unique telescopic design allows for this type of loft ladder to be installed into the tightest of spaces and they require minimal space within the loft when stowed. This type of loft ladder boasts an absolutely smooth and effortless operation. The 90mm deep treads make climbing comfortable and more importantly, safe.